Mt. Rainier Climb
July 6, 2011, Washington State. On the 6th of July, four members of our international World Harmony Run team successfully reached the summit of Mt. Rainier. The summit is 14,410 ft high. Read an account of the mountain climbing experience written by Pranlobha, a Seattle native who is a meditation student of Sri Chinmoy:
"In February of this year, four girl disciples were inspired to climb and reach the summit of Mt. Rainier, at 14,410 ft. Mt. Rainier is a stunning and impressive-looking mountain, standing alone and towering over all of Seattle.
Our team was comprised of Nimdoma Sherpa (Nepal), Pranlobha (Seattle), Rupasi (Seattle) and Gautami (Canada). Nimdoma Sherpa is the youngest woman in the world to have climbed Mt. Everest, at the age of 17. We were extremely grateful that she came to Seattle specifically to climb Mt. Rainier with us. Especially since we had no mountaineering experience prior to this climb, and had to learn everything from the beginning. She is an excellent teacher!
Our team left Seattle at 5:00 am on July 5th. We drove in a sleepy stupor for three hours before reaching the start point, at 5,000 ft. We climbed for 6 hours to base camp (10,000 ft.) and had a few hours rest. Rupasi brought some surprisingly tasty re-hydrated curry for dinner.
When mountain climbing, it is only possible to climb safely when the snow is hard and cold. Therefore, we had planned to head for the summit at 1:00 am. However, we learned that some other teams were climbing earlier, so we decided to leave at 12:00 am.
After sleeping lightly for only one or two hours, we put on our equipment and tied ourselves together with rope. We climbed in the cold, dark night by headlamp. It was very clear and beautiful; the night sky was full of stars. From the headlamps of the two teams in front of us, marching strings of little lights wound their way up the mountain. Climbing was difficult work and very challenging at times, but we all had been training for this months in advance. So it was all part of the plan.
At about 12,500 ft. we watched the sunrise. As golden sunlight burst over the mountains, it was so beautiful that it fed us new energy and enthusiasm! We reached the summit at at about 7:00 am on July 6th.
I was so happy and grateful, I was crying and could not stop grinning. We brought up the World Harmony Run torch and the Nepalese, American and Mongolian flags. It was the first time the torch had been carried to the top of Mt. Rainier. We feel so honored to have been able to participate in such a great mountain-climbing manifestation.
When Sri Chinmoy was in Seattle, he said that there is an aspect of Shiva on the top of Mount Rainier. It is called Ashutosh. Our team prayed to Ashutosh for permission to climb His mountain. We all felt His presence, protecting and blessing us very powerfully. It was a life-changing experience with the power of transformation, like visiting another world.
I've now realized that despite previous warnings, I seem to have caught the "mountain climbing bug." And now that we have shocked ourselves by successfully climbing our first mountain, who knows what kind of adventures we will have in the future?"
-Pranlobha Kalagian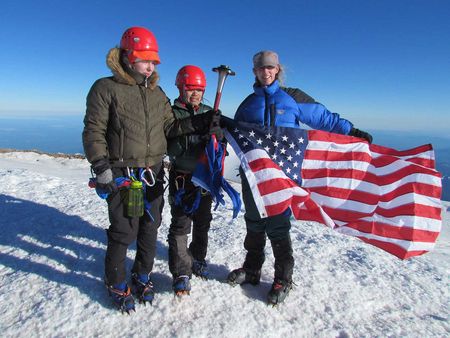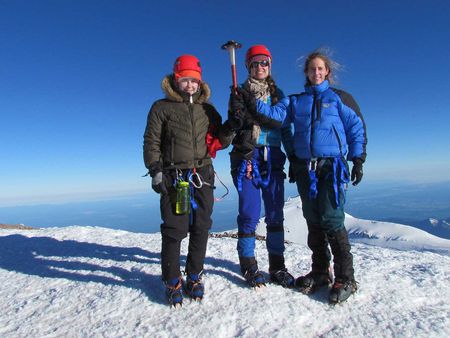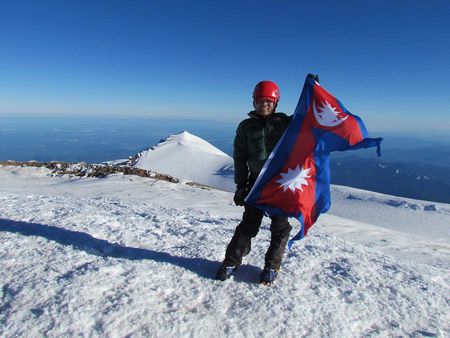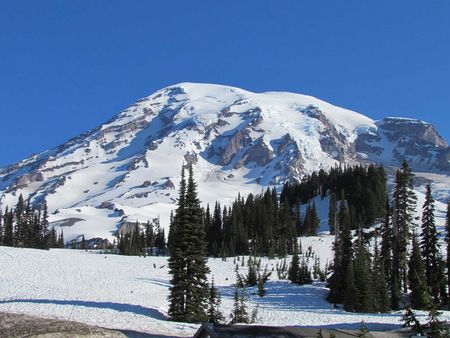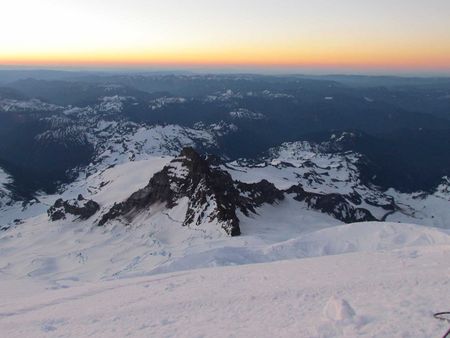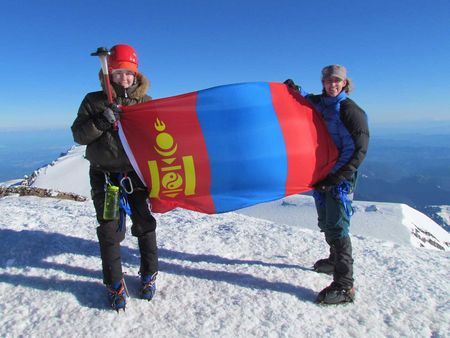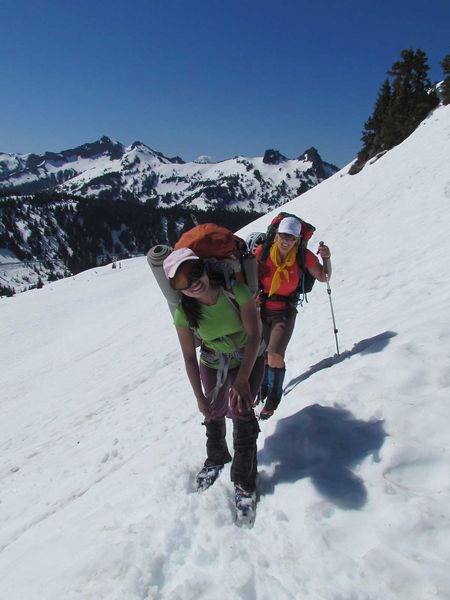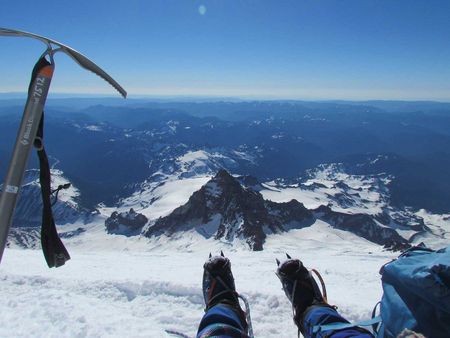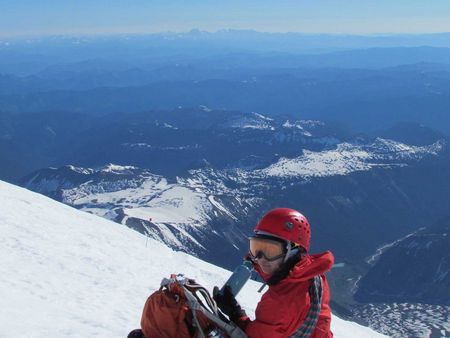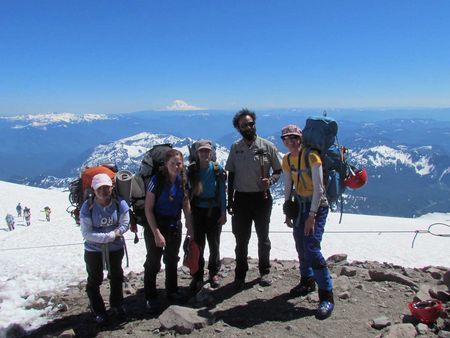 Holding the Torch with a statue of the World Harmony Run founder, Sri Chinmoy.